Our Route: Where in the World?
Lost Girls RTW Adventure
— By
Lost Girls
on January 1, 2006 at 10:28 pm
April 11-June, 2007:Australia We can't believe it either–Australia is the last stop on our Lost Girls round-the-world journey! We're gonna make the most of our time in Oz by renting an apartment on Bondi Beach in Sydney (just a block away from the water!) and taking road trips to cool spots up and down the East Coast. All three of us are dying to learn how to surf, so we're definitely signing up for classes with the hottest instructors we can find!
After our two months in Sydney are up, The Lost Girls are parting ways…Jen goes back to the States to do the "friends n' family tour," Holly is returning to NYC and Amanda will stay on in Oz to dive the Great Barrier Reef. Are we abandoning the blog? Hell, no! Stay tuned for regular updates about our American re-entry, reverse culture shock and latest travel adventures.
March 15-April 11, 2007:New Zealand It could take a lifetime to experience everything there is to see and do in naturally stunning New Zealand, but we're going to pack as much as we can into just four weeks. The Lost Girls will be renting a vehicle for the first time on the trip and using to it mow down the miles between major site and destinations. We can't wait to climb glaciers, hike volcanoes, kayak over aquamarine seas, dive into steaming natural mud baths and of course–throw ourselves off the famous Nevis bungee jump. As our resident Lord of the Rings expert (read: geek), Jen will be steering us towards all those cinematic locations made famous by Peter Jackson and his lovable Hobbits. As a fellowship nearing the end of our own epic journey, we'll be trying to make the most of every remaining day.
March 1-15, 2007: Bali Together at long last, we're leaving the mainland to go surfing and sunning in gorgeous Bali. After two weeks spent getting up at noon, drinking pina coladas and otherwise acting like total bums in Kuta Beach, we'll head inland to check out the artwork and accessories in the bohemian town of Ubud.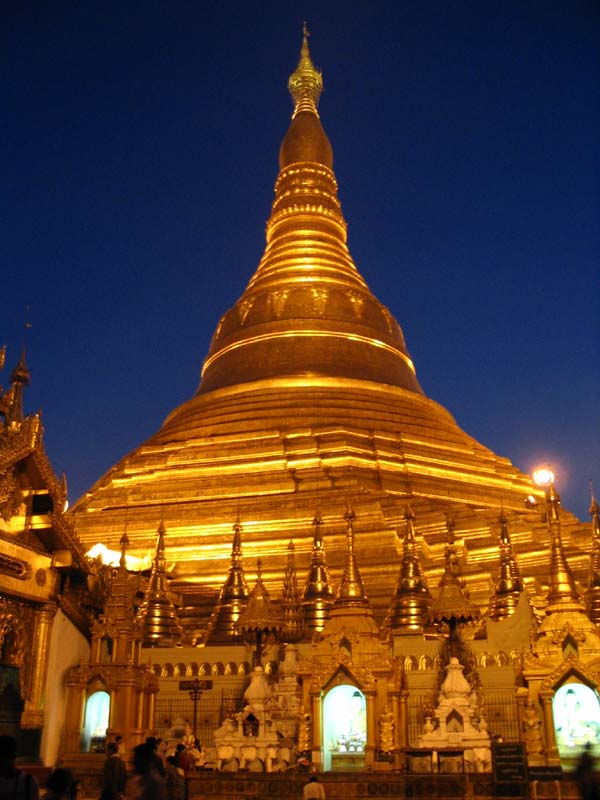 Feb 2007: Thailand and Myanmar We just can't seem to keep ourselves together! Just six weeks after Holly rejoined the Lost Girls expedition, Jen's jetting off across the Atlantic to visit her extended family–and celebrate her Grandpa's 80th birthday. While Amanda was shocked to learn that five members of her own clan will be visiting her in Bangkok, she's even more blown away that her dad and his new wife are willing to journey through the heart of Myanmar to hang with the remaining LGs. Once there, the foursome will take a seven-day river cruise past the country's famed pagodas, then return to Bangkok to meet up with the rest of Amanda's family. Wisely distancing herself from the pack, Holly will hightail it to Koh Tao to get her dive certifiate and catch a few gorgeous sunsets.
Jan 2007: Cambodia and Vietnam After making a mad dash back to NYC to visit her family and eternally loyal BF, Holly rejoins her fellow Lost Girls for culture, adventure–and a much-needed bottle of Khmer Beer–in Siem Reap, Cambodia. Pulling off our best Lara Croft impressions, we'll climb up, over and around the dramatic ruins at Angkor Wat…argueably, one of the Seven "New" Wonders of the World. From there, we're heading down to Phnom Phen, Cambodia and Ho Chi Mihn City, Vietnam to visit museums recalling some of the darkest moments in Southeast Asian history. The month wraps up in Vietnam's capital city of Hanoi, where we'll soak up some big city culture, stock up on fabulous silk dresses and take side-trips to stunning Sapa and Ha Long Bay.
Dec 2006: India Holly continues submitting herself to torture at yoga school by rising every day at 5:00am to chant and meditate; we're keeping our fingers crossed that she makes it all the way to day 30…a certificate and graduation! Meanwhile, Jen and Amanda indulge (and overindulge) in too much sun, alcohol and french fries as they skirt through Goa, India, Northern Laos and the islands of southern Thailand.
Nov 2006: India After spending a couple days trying to avoid getting trampled as we roam the frenetic city streets of Bangalore, India, The Lost Girls part ways for the very first time. Holly will be heading off to get her yoga teacher certification at the Sivinanda Ashram (Om Shanti!), while Jen and Amanda will be cruising the sleepy backwaters of Kerela by houseboat. Can you guess which LG is more industrious than the others?
Oct 2006: Kenya
After making a four day stopover in Northern India to check out the "Golden Triange" (that's new Delhi, Agra and Jaipur, we'll be jumping an Air India flight to Nairobi, Kenya's capital. We're planning to spend our first four weeks in the country working with pre-teen school girls through a program called Village Volunteers. We love this particular organization because they donate a pretty significant chunk of the program fee to the local community (rather than keeping it for overhead). During our stay in western Kenya, we'll take a short break to hit the Maasai Mara, the famoujs game park where four out of the "Big Five" roam. If we're lucky, we'll spot lions, hippos, zebra, giraffes, gazelles, and other gorgeous wildlife. While we probably don't have a shot of catching a leapord in action, we'll keep our fingers crossed! After our mini-safari, we'll head east, taking an overnight train from Nairobi to the coastal city of Mombasa. Few people back home know it, but Kenya has some pretty spectacular beaches…we intend to take full advantage of them!
Where We´ve Been
June – August 2006: South America
The Lost Girls have arrived in our first destination, Peru, home of the ancient Incas, Andes mountains and pisco sours. Starting in the capital of Lima, we headed to Cusco, whose Incan name means "navel of the earth." Part Andean mysticism, part East Village hip, part Colorado ski town chill, we planted ourselves here to chew on coca leaves and adjust to the high altitude before travelling 70 miles to hike the Inca Trail.
The Lost Girls survived the gruelling 4-day, 26-mile hike to the sprawling ruins of Machu Picchu and loved being out in the fresh mountain air. We celebrated by sipping red wine, eating ice cream sundaes and watching old movies at the Sanctuary Lodge-the only hotel allowed inside of Machu Picchu. We took the elegant Orient Express train back to Cusco to plan the rest of our travels in this diverse country.
Now we head to Puno on Lake Titicaca, the highest navigable lake in the world, where we'll visit the floating islands and check out Copacabana in Bolivia. Then we're making our way up the coast to canyon country in Arequipa to spot condors in Colca Canyon, and Nasca (where we can't wait to go to Ica Desert to try sand boarding). Next up are Islas Ballestas, or the "Poor Man's Galapagos," and beaches south of Lima before flying north to the Amazon Basin in Iquitos to sleep in a jungle lodge. Stay tuned for our next exotic locale-Brazil!
June 2006: New York City
Yup, we're still here….but not for long. Jen will say farewell to Manhattan at end of May, when Mom and Dad will be driving her home to Bowie, Maryland (a little like the last day of college, but they'll be schelpping even more boxes). Amanda's sticking around a couple weeks longer, but after the 31st, she'll officially become a futon crasher (a breed of Manhattan houseguest only slightly more desireable than, say, termites or mice). Fortunately for her friends, she has a plane ticket home to Tampa on June 12th, so her days living the bohemian, rent-free life are numbered.
As for Holly, well, she'll be hanging at her home with her man until June 20th. On that fabulous and fateful day, she'll cab it over to JFK, check her very tightly stuffed backpack, calm her nerves with a few mini bottles of Bacardi and get on an airplane bound for Lima, Peru. There, she'll meet her fellow LGs (flying together on a flight from Miami), share an oh-my-god-I-can't-believe-we're-doing-this moment, take a huge gulp of South American air and officially begin the adventure of a lifetime.
What's next on the itinerary? We're glad you asked……
The Lost Girls' Sorta-Kinda Plan for Worldwide Circumnavigation
Boarding planes, trains, buses, boats and chicken trucks, we'll attempt to lap the globe, a yearlong journey that will cross five continents and nearly a dozen countries. The following is the route we intend to follow, but as Lost Girls, we reserve the right to misplace the map, get turned around and of course, change our minds.
Our first stop….Peru, homeland of Incas, Andes and Pisco Sours. Jen's always had a secret desire to pet a llama (unfortunately, they're known to be spitters) and Holly and Amanda are looking foward to chewing on cocoa leaves to "ward off altitude sickness." Yah. One of our first stops is Cuzco, where we'll prep for our four-day long trek up the Inca Trail. After a near disasterous tumble off a cliff in Cinque Terre, we've have instituted our own hiker's rule of thumb: When climbing a mountain, you can gawk at the sweeping vistas or you can amble along the narrow trail, but you probably shouldn't do both that the same time. Just a thought.
After Peru, its just a quick jump (and, um, a couple thousand miles) over to the Rio De Janiero, where we'll dare each other to try on dental floss bikinis so popular with the locals. Feeling guilty about putting the items back, we'll end up buying but never wearing them.
Next, it's on to Kenya, the land of Jen's PBS-colored daydreams. Thanks to a childhood obsession with the miniseries Flame Trees Thika, all three LGS are determined to find those darn red bushes and see some amazing wildlife. We'll be arriving just in time to catch The Great Migration: that's when tens of thousands of wildebeests journey from the Serengeti's southern plains in Tanzania to the north and west in Kenya. We'll be ready, cameras drawn, to snap hundreds of partially blurry digital pix for your viewing enjoyment. After this first Lion King moment (can't you just hear the orchestra playing "Circle of Life"?) we're hope to join a safari and spot the "big five"–elephants, rhinos, buffalos, lions and leopards. Jen, Amanda and Holly will try to contain their excitement and keep all hands and feet inside the Jeep (you know, just in case the wildlife is feeling a bit nibbly that day). Fully sated on all things four-footed, we'll make a weeklong stop in Dubai to check out the world's only ski slope located in the middle of a desert, sneak into the extravagant resort hotels (hey, we're on a budget) and shop for new clothes at several of the city's gigantic malls (okay, not the much of a budget).
From there, its off to Southern India where Holly can earn her yoga certification at a local ashram and attempt to find "nirvanah" through meditation and vegetarian cuisine. Jen and Amanda will join Holly for a week's "yoga vacation," but spend the majority of their time soaking up the rays and flirting with other backpackers along the unspoiled beaches of Goa and Kerala.
From there, The Lost Girls will make their foray into Southeast Asia, hitting Thailand, Myanmar, Cambodia and Vietnam before heading off to New Zealand and Australia. Hope you'll stay with us!
Oh The Places We'll Go!
Click on the links below to learn more about the countries on the Lost Girls itinerary.
---
Click this link to go back to The Lost Girls
homepage and travelogue
.
Tags: round the world travel, travel inspiration