Indian Sleeper Trains: 5 Tips to Travel like a Pro
Budget Travel
,
India
,
Train
— By
Briana P
on July 5, 2011 at 12:00 pm
By Melissa Bressler
LG Contributor
Although conditions on India's sleeper trains have improved vastly since Gandhi chronicled his experiences on them to demonstrate the inhumane treatment of the lower class, they can still be a jarring and potentially uncomfortable experience for even the most enthusiastic travelers. Having traveled on countless sleeper trains during my semester as a cash-strapped study abroad student, however, I would recommend the experience to any traveler who wants to make a real connection with this huge, chaotic and vivid country.
In the words of India's famous Salman Rushdie, "There are as many versions of India as there are Indians." Ten minutes on a sleeper train proves him right.
1. Expect to be an oddity
No matter how worn-in your kurtas, you will be easily identified as a foreigner. On the sleeper-class trains, where many passengers have little money and idealize the opportunities of the West, the presence of a foreigner causes curiosity.
Five minutes into my train ride from Hyderabad to Mumbai, a man approached our group and plopped down at the end of our bunk, pausing for a minute to introduce himself before launching a rapid-fire investigation: "From where you are coming? To where you are going? What does your father do? What are you studying? Are you married? Is she married?" As we answered, he relayed the information down the train car, and by the time we had reached the fourth stop, everyone on that car knew the exact class schedule of all six confused American girls.
Expect people to be curious. Expect every camera phone in the area to zero-in on your face from the moment you put down your conspicuously heavy backpack. But also understand that, while potentially annoying, the attention is mostly harmless. If you feel as though someone is crossing your boundaries, calmly and firmly request that they leave you alone.
2. Keep your guard up…but don't be afraid to make friends
There's no question that a sleeper-car is a dangerous place for valuable possessions. Crowds, poverty and constant bustle make the trains ideal sites for thieves, especially when most of the car is sleeping. As a westerner with an iPod, you'll be a prime target for pickpockets and more devious thieves.
One friend had 5,000 rupees (about $100 U.S.) stolen from his backpack in the two minutes it took him to go to the bathroom. Another lent her iPod to a friendly nine-year-old in the opposite bunk, only to realize that when he "went to show his mata," he wasn't coming back.
Stories like these are common for any sort of public transport, but they are particularly rampant in sleeper trains. To stay safe, buy several locks for your backpack, sleep with your valuables on your person and try to leave your most costly possessions at home.
Don't assume, though, that keeping safe means keeping isolated. Sleeper trains gave me some of my favorite experiences, from playing cards with a group of friendly Indian students to joining a young woman as she painted hands with mehendi, or henna, for a wedding. Be safe, but have fun; take the opportunity to make some friends and gain some stories.
3. Understand the reservation system
Unless you purchase tickets far in advance, you'll often find yourself "waitlisted" for certain journeys. Typically, some "waitlisted" passengers become "confirmed" passengers before the date of the trip due to cancellations. Even if your tickets are not confirmed by your departure date, you may still have a space on the train, though, unfortunately, not a very comfortable one. A number of waitlisted passengers are assigned to shared bunks, which makes for either a cozy night with a friend or an uncomfortable one with a stranger. Be aware that most single travelers in India are male; if you're a female traveling alone, riding on an unconfirmed ticket could lead to 15 hours of highly uncomfortable cuddling.
Before you book your tickets or prepare to travel, do your research. Sites like www.indiamike.com are an essential resource to help book your ticket like a pro. Once you have acquired your ticket, be aware that you'll probably not be assigned a seat for sleeper-class; seat assignments are posted on the side of the train when it arrives at the station. Running up and down the platform looking for your car is half the fun of the sleeper experience.
4. Plan for cold, delays and dirt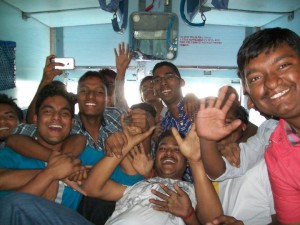 Five minutes under an Indian sun and you won't believe that cold exists in this country. Do not be fooled. If you're traveling in high season (October to January), prepare for some cold nights. The sleeper-class trains aren't insulated and don't provide blankets or pillows. Wear layers, pack extra blankets and invest in a travel pillow. These trains are also rarely, if ever, cleaned; a simple sheet is an easy backpack addition that will save you some bouts of post-train sickness.
When planning for the next leg of your trip, be sure to allot plenty of time between modes of transportation. Indian trains are rarely on time and delays of a few hours aren't unheard of. Allow an hour and a half to two hours between legs of your journey to ensure you don't miss any of your scheduled transport.
5. Don't ever eat the train food
Bring your own food and bring plenty of it. Train rides are long, often more than 15 hours, and though there will be biriyani, samosas and omelets available for purchase during the ride, they will likely make you sick. Things like packaged cookies, crackers and bananas are safe if you're in the mood for a snack. Being sick on a sleeper train borders on traumatic. Try to avoid it.
Photo credits: Daniele Sartori, others by Melissa Bressler
Check out these related posts:
Tags: safety in india, sleeper train, train travel, travel tips
Trackbacks
Leave a Trackback